The Royal College of Nursing reports that a number of prestigious hospitals will be impacted by the upcoming nurse strikes.
Leading cancer treatment facilities and pediatric hospitals like Great Ormond Street and Alder Hey are among them.
On December 15 and 20, nurses will strike in virtually all hospitals and community services in Wales and about a quarter of those in England.
While the strike is in effect, emergency care will still be given.
Nurses will strike at 76 NHS organizations in all.
a record-breaking number of nurses leave the NHS
Along with significant hospitals in Birmingham, London, Liverpool, Newcastle, and West Yorkshire, they feature renowned cancer centers like the Royal Marsden and Liverpool's Clatterbridge center.
There will be strikes at every health board in Northern Ireland and all but one in Wales, the Aneurin Bevan.
However, after ministers in that country made a new pay offer, which the RCN is currently consulting on, the action was suspended in Scotland.
In the meantime, five of England's ten ambulance services have approved strikes by their staff, including paramedics and call handlers. Unrest is anticipated before Christmas.
Turnout was too low in the remainder for the votes to count, as well as in all but two of England's hospital and community trusts.
No services in Wales voted for strike action, but a walkout will happen across all services in Northern Ireland on 12 December, Unison said.
Overall, up to 100,000 nurses could be involved in the nurse walk the RCN says, which would amount to about a quarter of nurses in those three nations.
The RCN warned the government if a deal could not be agreed more services would be involved in the strike action next year.
RCN general secretary Pat Cullen said: "Ministers have declined my offer of formal pay negotiations and instead chosen strike action.
"It has left us with no choice. Nursing is standing up for the profession and its patients.
"We've had enough of being taken for granted and being unable to provide the care patients deserve."
The strike action will last from 08:00 to 20:00 GMT.
Under trade union laws, the RCN has to ensure life-preserving care
This is likely to mean some cancer services, urgent tests and scans and ongoing care for vulnerable patients will be protected alongside A&E and intensive care – although it will be up to local health bosses and union leaders to negotiate exact staffing levels on strike days.
But it seems almost certain the walkout will increase the backlog in non-urgent hospital treatment – a record seven million people are already on the waiting list in England.
GP services, however, will be unaffected as nurses working in practices were not entitled to take part in the ballot.
In England, the RCN only has mandates for strike action in just over half of NHS trusts as the turnout was too low in the rest.
For the forthcoming strikes, the union's leadership has decided to only announce walkouts for around half of those eligible to take action.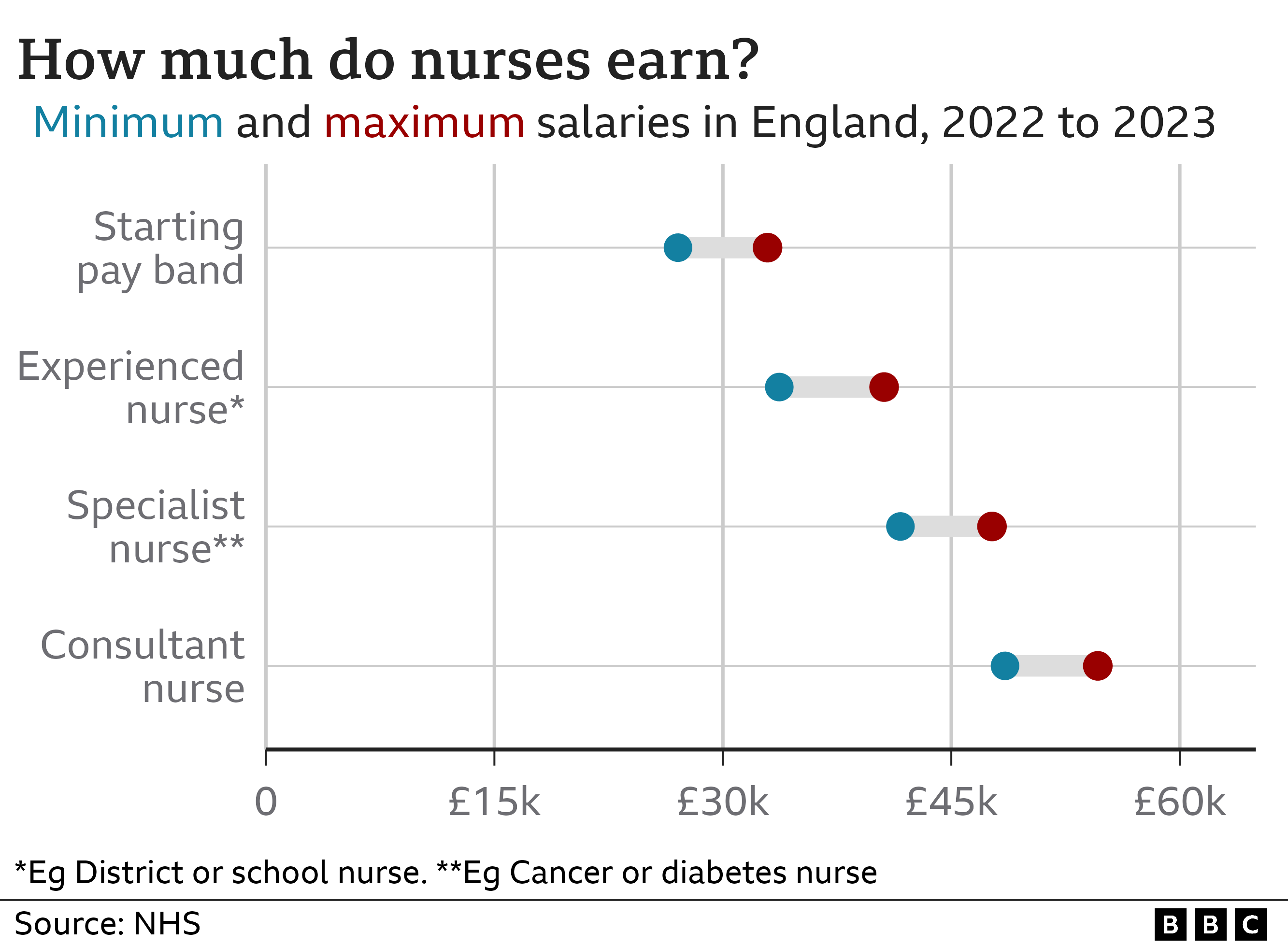 The RCN has requested a hike of 5% above the current RPI inflation rate of almost 14%, although no UK country has come close to that.
NHS employees in England and Wales, including nurses, have received raises of at least £1,400, or 4% on average.
A salary award for nurses in Northern Ireland has not yet been given because there is no functioning government.
Scottish ministers announced a new offer earlier this month for a newly qualified nurse worth more than 8%, with more senior nurses receiving a lower offer. The dialogue was restarted as a result of this.
The RCN had contended during the poll, the results of which were made public two weeks ago, that this year's award of below-inflation compensation came after years of salary compression for nurses.
The RCN's requests, however, are unaffordable, according to England's health secretary Steve Barclay.
He said that in making its award, the government had complied with the independent NHS Pay Review Body's recommendations.
Additionally, despite a public sector wage freeze, it came after a 3% salary increase given last year in acknowledgment of efforts done during the pandemic.
The Welsh government claimed that without further cash from the UK government, it was unable to start pay negotiations.
Only twice have RCN members gone on strike, including now.
Nurses in Northern Ireland went on strike in 2019 for salary, whilst nurses in England who are Unison members went on strike over pay in 2014.
Numerous other significant health unions have begun conducting member ballots, including Unison, the Royal College of Midwives, GMB, and Unite.
source: summarybio.com