What is Don Cherry Net Worth ?
Don Cherry is a Canadian ice hockey commentator, retired professional hockey player/NHL coach who has a net worth of $14 million. Although Don Cherry was once a successful hockey player in the NHL and the AHL, he is probably best known by hockey fans today as a commentator and analyst.
After his NHL career came to an end, he started coaching the Boston Bruins, leading them to a number of titles.
In terms of his broadcasting career, Don is famous for hosting "Coach's Corner." He hosted this segment from 1986 to 2019. Cherry was ultimately removed from Sportsnet in 2019 after making comments that offended various parties. Despite "Coach's Corner" coming to an end, he continued to host his radio show, "Grapeline." After his removal from Sportsnet, this radio show was continued in podcast form.
Over the course of his broadcasting career, Don has become known for his sense of style and his outspoken (and sometimes controversial) personality. Some of his more controversial statements include the denial of climate change and the support of the 2003 invasion of Iraq.
He is particularly appreciated in Canada, and many Canadians consider him to be one of the most iconic Canadians of all time.
Early Life: Donald Stewart Cherry was born on February 5th of 1934 in Kingston, Ontario, Canada. Don quickly pursued a career as junior hockey and minor-league hockey player, which caused his family to move around frequently. His wife Rosemarie was very supportive of Cherry's career, and the family moved a total of 53 times.
Due to Don's hockey commitments, he missed the birth of many of their children. In 1997, Rose passed away from cancer. In 1999, he married his second wife, Luba.
Playing Career: Don started his hockey career by playing in the juniors with the Barrie Flyers and the Windsor Spitfires in the Ontario Hockey Association. After dropping out of high school, Cherry joined the Hershey Bears of the American Hockey League.
One year later, he played his one and only game in the NHL for the Boston Bruins. Don claims that a baseball injury suffered early in his career stopped him from making it in the NHL. He initially retired in 1970, but he returned from retirement in 1972 to play for the Rochester Americans.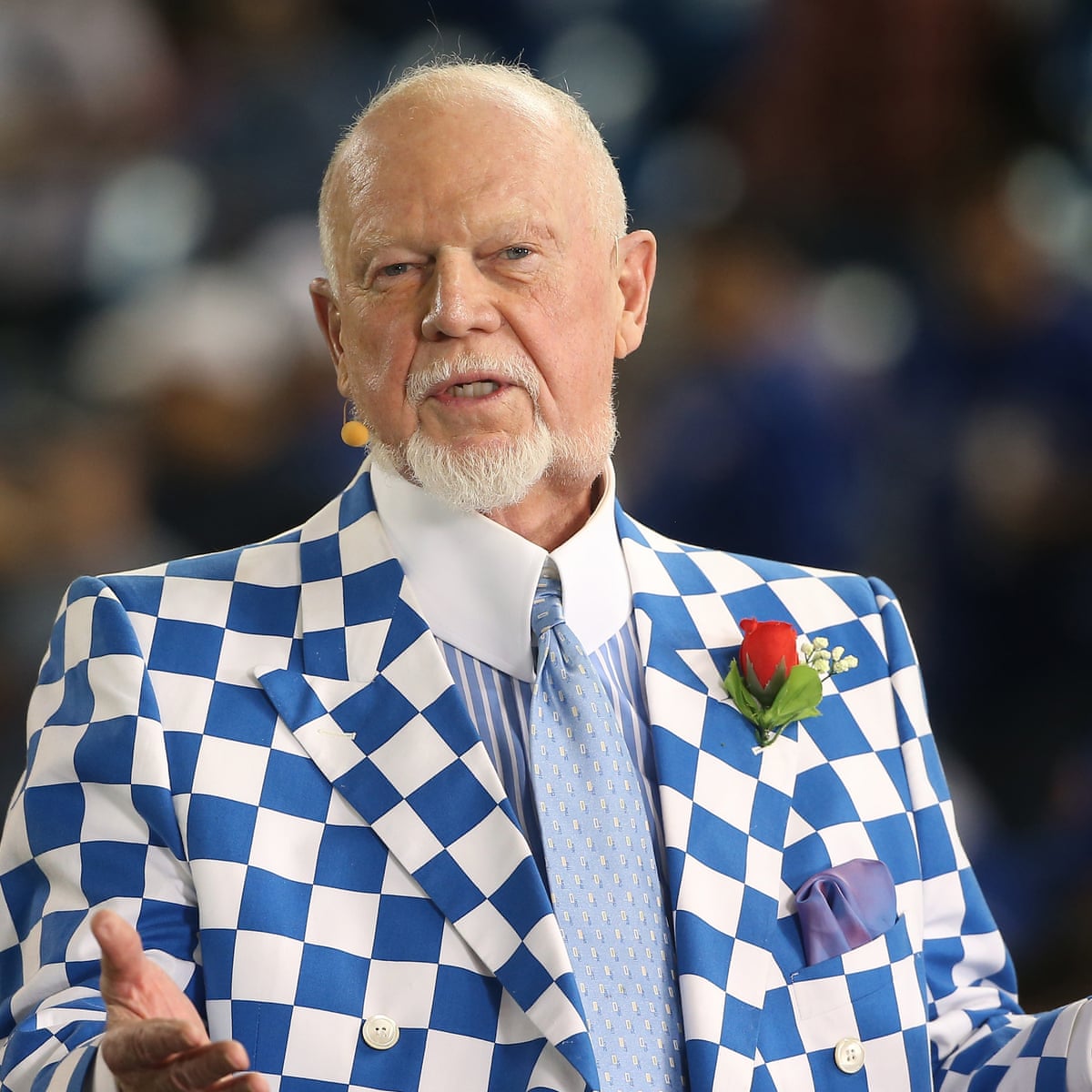 Over the course of his career, he won the Calder Cup championship with the Springfield Indians. He went on to win the cup three more times with Rochester. He also won the Western Hockey League Championship with the Vancouver Canucks in 1969.
Coaching Career: Despite trying to make it as a car salesman and a construction worker after his career ended, Don ventured back towards hockey with a career as a coach. He was eventually named head coach of the Boston Bruins for the 1974-75 season.
During the 70s, the Bruins became one of the better teams in the NHL under Cherry's leadership. He ended his career by coaching the Colorado Rockies before finishing off with teams like the Saskatoon Blues.
Other Entertainment Work: Outside his work in the sports world, Don Cherry has appeared in TV series such as "Mickey Mouse," "Goosebumps," "Holmes on Homes," and "Power Play." He also voiced an animated version of himself in "Zeroman." In addition, he voiced a character in the animated film "The Wild."
Business Ventures: During the 80s, Don opened up a chain of restaurants in Hamilton. Don Cherry's Sports Grill has since opened locations across various provinces throughout Canada. In addition, Cherry has partnered with Pethealth Inc. to create the CherryBlue Pet Insurance program. The program was named after his bull terrier, whose name is Blue.